Getting ahead of the competition is always a good idea. That's why predictive intelligence continues disrupting sales and marketing, with Winmo at the forefront of this charge. Our forecasting publication WinmoEdge has been able to successfully crack the code on predicting sales opportunities 3-18 months in advance.
Consider this your crystal ball of business development!
The Secret Sauce
While we can't tell you exactly how we do it, we can say that we've developed an algorithm that evaluates opportunities based on known new business triggers. The highest-scoring opportunities land on our Vulnerable Account Index, a compilation of brands most vulnerable to an agency review. From there, clients are able to quickly review and prioritize each sales opportunity and begin outreach.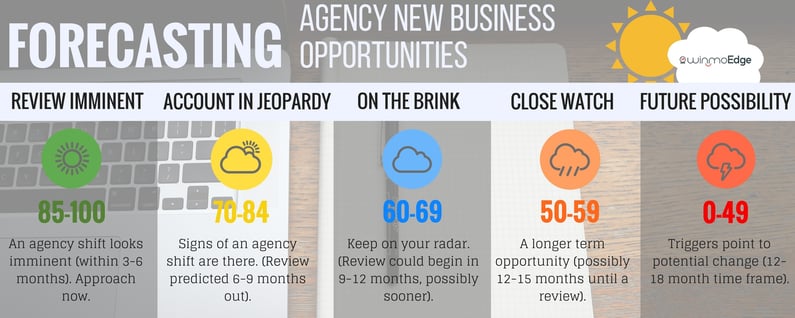 The Proof is in the Pudding
Since April, 2014 when we first began forecasting new business opportunities, we've been able to score over 800 brands with a 73% success rate. Imagine…out of 700 leads we passed to our customers, 500 were predicted to happen in the time frame we reported on.
Talk about a new business crystal ball!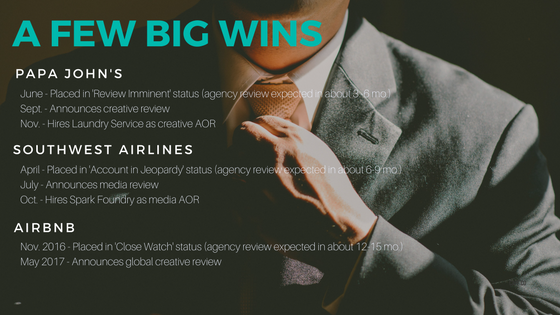 Along with these big wins, other successful forecasts recently include:
Carl's Jr. & Hardee's, Uber, National Geographic, BMW, Rent The Runway, Campbell's, Belvedere, Whole Foods, Mattress Firm, Sunny D, Jack in the Box, AB InBev and Macy's.

500th Prediction: Dick's Sporting Goods

Dick's Sporting Goods landed a spot on our VAI after hiring a new CMO in July, and in our business, CMO hires should be looked at as a flashing neon sign that says "we are about to review our agencies."
This month, Dick's announced the appointment of WPP's VML as the creative agency of record for its new apparel brand, Second Skin, marking our 500th successful forecast.
Specifically, VML will be responsible for the brand's social media strategy and creative planning and production. So, with a new creative shop on its roster, a new campaign is likely to follow.
In other words, this is a big opportunity for ad sellers to reach out and secure revenue tied to the upcoming campaign. In fact, Dick's debuted a new campaign for another one of its exclusive brands this time last year, so this only increases the chance for a campaign to launch soon. Seek ad dollars tied to digital, TV and sponsorship, as this is where a big portion of Dick's ad budget goes.
Don't worry agencies, there's some opportunities for you too. The addition of a new creative agency, plus current agencies approaching average AOR tenure (2.5-3 years) and a new CMO could signal that larger roster changes are on the horizon. So, if you have active lifestyle and retail client experience, start getting those pitch engines ready… just in case.
Tracking Opportunities Across the Entire Advertising Industry
While our VAI provides agencies with a heads up that reviews are coming, our WinmoEdge team
tracks each opportunity all the way through its journey. When new agencies are named, a slew of new campaigns are created, which provide additional opportunities for ad sellers who can begin reaching out to secure the upcoming ad dollars. The sports retailer's ad budget typically stretches across digital, TV and sponsorship, so this is where revenue should be the most readily available.
With a 73% success rate of predicting new business opportunities, we're doing something right! Request your Winmo trial today and test it out!
Did we mention, our clients LOVE WinmoEdge?
"Within the first week of using Winmo we learned of an opportunity uncovered by WinmoEdge. Four weeks from an initial conversation with the CMO, we closed the largest agreement in company history and worth TEN TIMES the revenue of any previous client. It would not of been possible without Winmo & WinmoEdge!"
- Chuck Smith, VP Business Development, 4Cite Marketing
"WinmoEdge is a wonderful resource for up-to-date industry information. What I like best is the publishing of leading stories about brand spending, agency relationships, new campaigns, new contacts and regional focus on each industry. The daily reports are just the right about of information to brief daily to stay connected with the market." - Kristine Checheris, National Sales Manager, Adspace Digital Mall Networks
"For me the daily WinmoEdge update was the key determinant in switching to Winmo. We use it as both a news aggregator and lead tool. Recently Del Friscos popped up in a few places.... We've been able to directly connect with that team and the daily WinmoEdge brief provided additional tipping points to keep that conversation going. We closed several new product lines as a result."
- Sean Halter, Partner, Connectivity Agency