Winmo, a product of List Partners Inc., has teamed up with Pathmatics to provide its users with breakthrough transparency into digital ad buying behavior.
A newly launched integration brings a wealth of creatives, publisher and occurrence details from Pathmatics directly into Winmo's award-winning sales intelligence platform - breaking down digital ad budgets alongside the decision-makers who spend them.
While Winmo has historically shown digital spending figures, its new Pathmatics integration illuminates how those dollars are being spent, allowing sellers to see what a prospect's latest ads look like, where they've run, and how often they've appeared in a given timeframe.
How it Works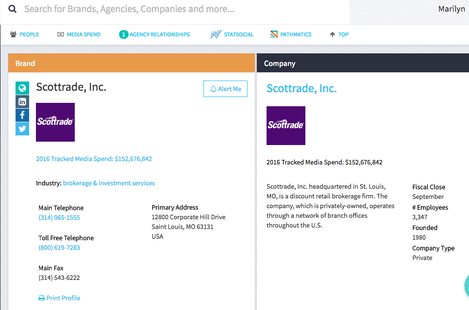 When viewing an advertiser's profile in Winmo, users will now find digital display intelligence from Pathmatics built right in, revealing:
Recently run digital creative
Top 10 ad destinations
Percentage of ads placed programmatically vs. direct
Frequency of ad occurrence within the past 30 days
With a deeper understanding of how prospects operate in the digital world, media sellers, agencies and advertising technology providers can hone in on their biggest areas of opportunity, and pursue the most effective and strategic approach.
"Nothing is more impressive than a sales professional who's done their homework, and Winmo is making that easier and easier to do, now with digital display intelligence from Pathmatics," said Dave Thomson, Chief Revenue Officer of Winmo's parent company, List Partners Inc. "Sellers and agencies are already consulting Winmo for brand-agency relationships and contact information, and now, they've got access to expertly sourced creatives and occurrence data – everything they need to demonstrate an advanced knowledge of a potential partner."
"Both Pathmatics and Winmo strive to bring greater transparency and actionable intelligence to ad sellers and buyers," said Gabe Gottlieb, Co-Founder & CEO, Pathmatics Inc. "Having Pathmatics data live, real-time in the Winmo product is a clear win for sellers looking for a competitive edge."
Benefits for Media Sales, Agencies & Advertising Technology
Armed with an understanding of when and where a brand is advertising, media sellers can explain how their property fits into the broader strategy. Agencies and adtech firms meanwhile, can use Pathmatics information to tailor their pitches, and position themselves as the right partner for future growth.
While the integration incorporates select information from Pathmatics, sellers, agencies, and advertisers interested in exploring the full range of data points that Pathmatics reports on can request more information within Winmo, or by simply visiting https://www.pathmatics.com.
About Pathmatics:
Pathmatics provides actionable insights that change the way brands, agencies, adtech, and publishers execute, track, buy, and sell digital advertising. With Pathmatics' advertising intelligence platform, ad buyers use competitive intel to optimize their advertising, and ad sellers increase revenue with data-informed prospecting and proposals. Pathmatics provides unprecedented transparency through access to creatives, impressions, spend, along with unique data on where and how ads are delivered. Tracking over 80k advertisers, 32k publishers, 800 ad services, and 46M creatives, Pathmatics is the must-have intelligence platform for advertisers and ad sellers looking to optimize performance.
About Winmo:
Business development teams use Winmo to reach the right prospects at the right accounts at the right time. Its up-to-date advertiser and agency profiles track decision-makers who control over $100 Billion in annual ad expenditures. In addition to being the first place that sellers turn for advertiser-agency relationships and contact information, Winmo predicts opportunities on the horizon, tracking subtle shifts to keep agencies, publishers and adtech firms ahead of their competition. With verified sales intelligence, real-time change alerts and forecasted opportunities at their fingertips, Winmo users can operate more strategically, and engage prospects at the earliest stage of opportunity. Interested in trying Winmo? Visit www.winmo.com/request-trial.