Software review website G2 Crowd has released its latest report of top-performing sales intelligence tools based on user reviews. Not one, but two of List Partners Inc.'s products made the list, with legacy platform The List Online named a High Performer, and its evolution, Winmo, claiming a spot in its first year on the market.
To identify top-rated providers of sales intelligence, which G2 Crowd defines as sources of "background and contact information for a prospect, company, or industry," G2 Crowd honed in on verified reviews of sales intelligence tools, placing special emphasis on two factors:
Product Satisfaction: How positively users of each platform rated its features, data accuracy, integrations and ease of use.
Market Presence: Essentially, the quantity or number of reviews associated with each platform.
To help visualize the results, G2 Crowd produced a Sales Intelligence Grid of top-rated contenders.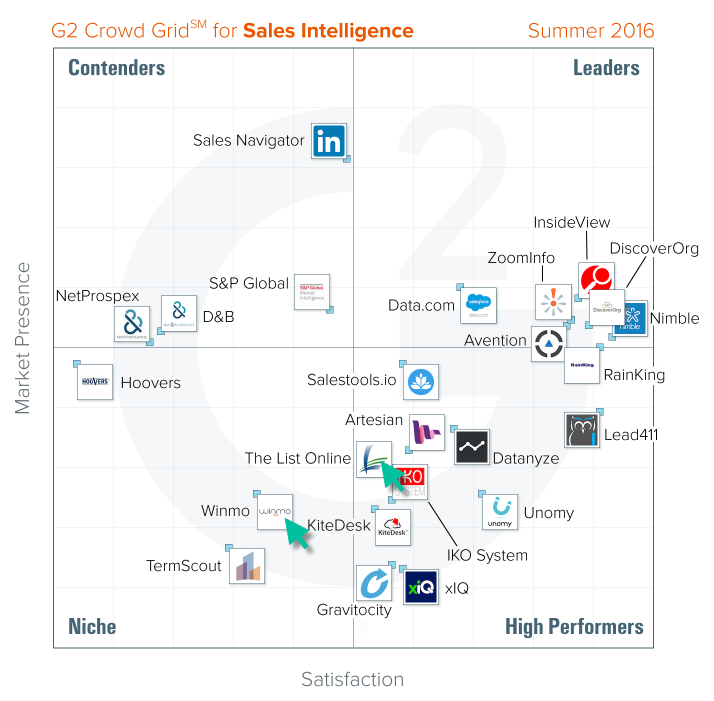 Notably, Winmo and The List Online were the only included tools that provide sales intelligence specific to the marketing and advertising industry.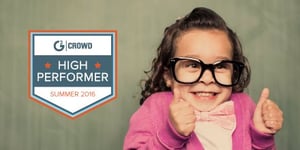 Attaining the status of a High Performer, our legacy product The List Online drew high praise from users who've reviewed its sales intelligence on G2 Crowd. In fact, 91% of users would recommend The List Online, according to the report. Other highly rated sales intelligence tools include DiscoverOrg, which focuses on IT industry sales intelligence, and Salestools.io, which allows users to source leads from publicly available information on websites such as Crunchbase.
Meanwhile, our newest prospect database, Winmo, made its debut on the 2016 Sales Intelligence Grid in just its first year on the market. Among its highest-rated features: connected brand-agency data, in-house prospecting publication DailyVista, and integration with Salesforce CRM.
Here's a peek at some of the reviews that helped fuel Winmo's accomplishment:
My Experience with Winmo Has Been Awesome! 10/10
I like that you are able to toggle between a brand/company's contacts and their agency contacts. I like the predictive search function and WinmoTalk has been extremely helpful. I think WinmoTalk is a huge asset for any company; it's basically an expanded network of people willing to share their contacts with you!
Huge Timesaver! 10/10
This product is exceptional in helping to save me time. I'm able to source leads quickly, and accurately, which helps me to get onto the business of actually building relationships. The content is terrific, the accuracy is exceptional and the bells and whistles are very helpful.
This Product is Game Changing 10/10
The sheer amount of data that Winmo offers in mind-boggling. It has changed the game for our sales department. Our prospecting efforts are now national instead of local, and the data is as accurate as I've ever seen. I will absolutely recommend Winmo to my industry contacts.
These results are a great source of encouragement to the product team at List Partners Inc., especially as more and more companies turn to peer reviews and recommendations to help them evaluate new tools and technologies. For a prospective customer, there are few things more impactful than seeing the real-life benefit that a particular tool has provided to an organization facing familiar business challenges.
Read more Winmo reviews, and view G2 Crowd's Summer 2016 Sales Intelligence report in full here for the scoop on rankings, reviews and more.