There are two groups of people who rule media and marketing budgets: the client decision-makers who own those dollars and the agency teams who decide where they go. For many B2B sales professionals it's imperative to know both.
If you're one of them, we're talking to you. You may have managed to get your hands on that coveted agency org chart. The one that maps out agency staff by account assignment. You know how good it feels. You've got the keys to the kingdom! Until a month later when changes make it obsolete, and it's back to the drawing board (and the gatekeeper).
That's where we come in. Winmo's in-house research team doesn't just track marketing contacts for 40,000+ advertisers and 8,000+ agencies - they map together the relationships between them, so that you can see who works on which account. It's like having thousands of agency org charts at your fingertips! The keys to thousands of kingdoms! And those who guard their ad budgets, of course.
Here's how our customers use Winmo to find brand-agency relationships (and conversely agency-brand relationships) in two clicks:
Brand-Agency Relationships
Pull up the advertiser you're hoping to open doors with.



Navigate to "people," to reveal all contacts associated with this brand. Toggle from brand contacts to "agency contacts" and voila! You've got the designated agency contacts on that account, as well as emails, direct dials and social profiles at your fingertips.

Pretty easy way to do your homework, right? And Winmo makes it just as easy to work opportunities from an agency perspective.
Agency-Brand Relationships
If you're prospecting an agency, and need decision-makers for specific accounts:
Type in the agency you're looking for.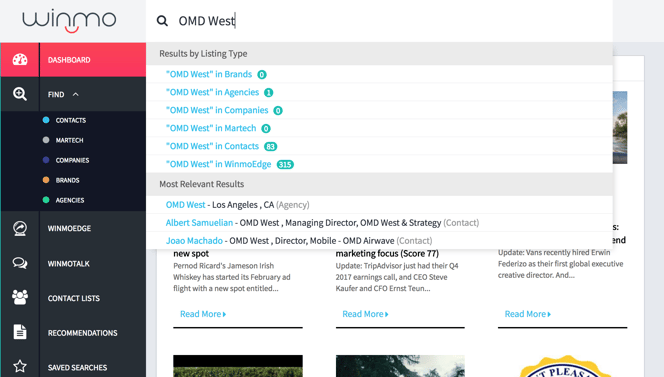 First things first, we'll tell you everyone at the agency, regardless of what account they work on.
2. Select "Client Relationships" and sort these decision-makers by account assignment.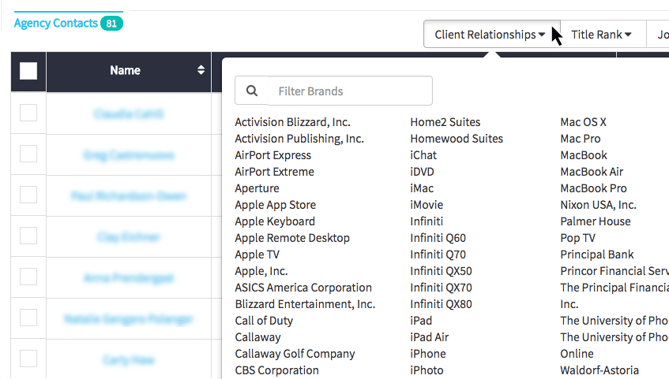 Expand their contact details to see phone numbers, email addresses and more. You can add them to a list you're building out and export to your CRM, too.
As a bonus, you can view client relationships according to things like service provided, ad spend, and tenure.
So why is this function so important to our clients? Like we said before, there are two groups of people who decide where and when a brand will be spending, and our many of our clients need to know both sides of the brand-agency relationship for effective sales outcomes.
See? We've been trying to tell you - Winmo helps you engage the right people at the right time. Don't have it yet? You're missing out! Start your free trial today.