Despite spending thousands of dollars and labor hours every year to help their clients get new business, sales, leads...the things that put money in the bank for their clients, the quality that's most consistent among agencies is how inconsistent they are with their own marketing.
The struggle is real
A recurring theme on this and other blogs is the battle many agencies have when it comes to trying to marketing themselves effectively. Agencies typically struggle here because they're often founded by a group of creative-minded individuals who, despite their best intentions and efforts, do not fully understand the need for sales and marketing or how to properly go about it.
Knowing how to create and leverage new business opportunities is a specific skill, in the same way graphic design, copywriting and SEO are. A great sales person wouldn't try to just jump into selling web design if that wasn't something they'd spent years learning to do well, but the opposite isn't true. Many agencies try to jump into sales without having a background -- and more importantly the connections -- to do it successfully.
How can agencies can find more brands to work with in the market they serve?
If you can't afford a full time new bisiness director, and you can't afford a service like Catapult New Business to find opportunities to grow your agency, you should at least invest in some tools. It's all about knowing how to find new opportunities in your market, and tools like WinmoEdge help agencies unearth more brands to work with, and understand the right times to target them.
Can you imagine how powerful this kind fo news, delivered to your email every single day, or searchable in an online platform could be for your agency?

WinmoEdge provides reporting around when brands are doing an agency review, undergoing a CMO change, looking to outsource a new campaign and other events that could trigger business opportunities for savvy agencies. If you're thinking "but my agency doesn't do any of that," not all opportunities are A to B, vendor to user deals. Some are vendors serving vendors, and a professional new business director will help your agency make those connections.
What prevents agencies from reaching the decision maker at the brand?
The biggest difficulty in sales is reaching out to someone only to find out (after it is too late) that he or she is in not the decision maker and worse, that the actual decision maker has already decided to go with another agency.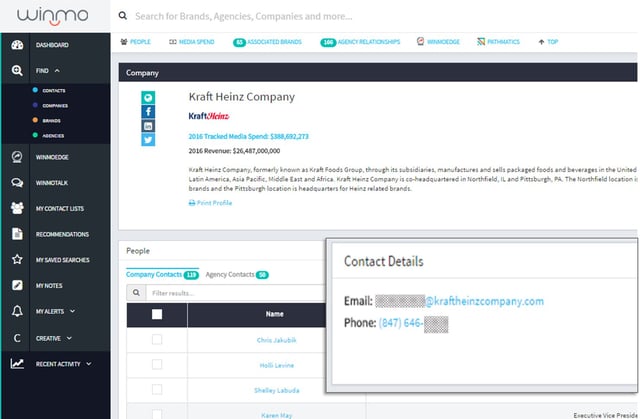 By providing direct dial and email information, Winmo eliminates this confusion so agency business development professionals can spend less time trying to figure out who the decision maker is and more time pitching their services and landing new clients.
If your agency is ready to get serious about growing, try Winmo for free and find the decision makers in the brands you want to work with.