While parents, kids and coeds are thinking more about summer vacations than fall semester, there's no doubt that brand marketing executives are gearing up back-to-school initiatives to entice consumers when the rush begins, so now is the time to "stock up" on your back-to-school media prospect list.
To help you plan your outreach accordingly, we're highlighting a few tips for identifying advertisers likely to be spending the most this back-to-school season.
Target Key Business Categories
Big box stores, personal electronics manufacturers and office supply brands are more likely to market back-to-school offerings than tourism boards or hospitals. As a result, zeroing in on high-value categories will bring more relevant B2B sales and partnership opportunities to the surface.
So which categories should you target first? Check out the key verticals we've identified for back-to-school advertising season, and preview a selection of associated Winmo profiles, below:
Apparel & Accessories, Retail Stores & Chains
Consumer Electronics & Personal Computers
Office Supplies & Office Supply Retailers
Education & Learning
Other business categories of interest include sporting goods and sporting good retailers as well as home-related décor and appliance brands (for the latter, think of affordable brands advertising to college kids moving into dorms or off-campus housing).
Target Key Marketing Decision-Makers
While the contacts responsible for back-to-school advertising campaigns might not have the words "back-to-school" in their given business title, we have a clever way of finding them nonetheless, based on their job function.
For Winmo clients, it's simple. To identify decision-makers most likely to be targeting school-aged children, we recommend searching Job Function > Youth Marketing with our advanced filters.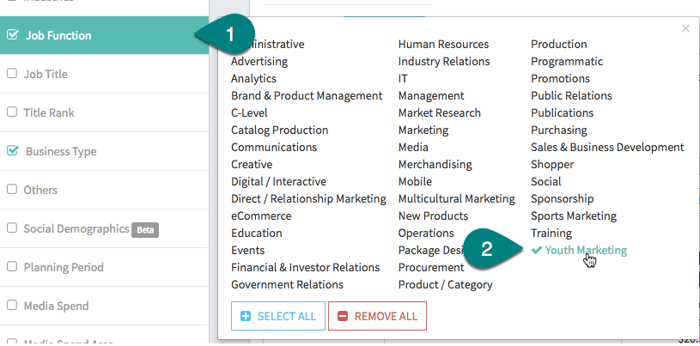 In fact, depending on what your agency or advertising destination can offer, you may want to pair a filter like this with an industry, as the suggestions above, to create a hyper targeted back to school prospect list.
Identify Upcoming Back-To-School Campaigns
The back-to-school advertising season is, well, crowded. Advertisers are planning earlier and earlier to optimize their campaign plans and media strategy. Our prospecting publication, DailyVista, is a good place to keep an eye out for news of back-to-school campaigns and retail strategies as they emerge. Our clients often search keywords like "back to school" in order to get the scoop on such opportunities, like the one below.

Bonus Tip: Focus on Shopper Marketing
Even if you sell radio or television advertising, don't count this method out. Although it may seem indirect, looking for advertisers with shopper marketing initiatives and relationships is a creative way to cast a net around brands likely to be targeting back-to-school shoppers through couponing efforts and FSIs.
Utilize Sales Intelligence to Do the Heavy Lifting For You
Interested in generating leads with back-to-school advertisers, but lacking a source of credible sales intelligence? Request a trial of Winmo to put these tips to use, and generate your own list of highly targeted back-to-school advertising sales leads.