Ah, spring. The birds are singing, the bees are buzzing, and you're driving to the hardware and garden superstore every weekend between now and Memorial Day to get your yard ready for cookout season. But how do you tool up and prepare for growing your agency?
The only things that grow by themselves are weeds and wild things. Since you probably don't want those for clients, you need to take time to prepare, cultivate and feed your prospecting and prospects when you're looking for new clients for your agency. Click the image to open the infographic or download it as a PDF.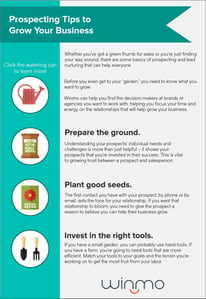 If you're ready to start planting seeds, help yourself to a free trial of Winmo.